When Tourism Ireland invited me on a Foodie Tour of Northern Ireland, my first thought was "I can boil my own potatoes and I don't eat deep fried foods." They were only too happy to show me that my concept of Irish food is outdated and how far their culinary world has come.
In addition, I experienced living history with the peaceful political shift in the North from Belfast, through County Down and into Derry/Londonderry. This place is in its spring, bursting onto the scene from its rich, fertile, deeply cultured past and ready to blossom for the world.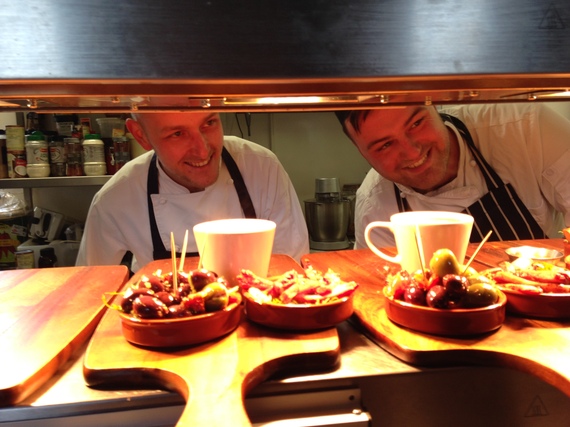 Here is a quick video montage of the Irish Foodie Adventure.
While in Belfast you must not miss:
True Irish pubs like the Crown which has enclosed cubicles called snugs: booths that are festooned in a British-ish richness and red. (there is a coupon on the website!) A seat at the bar in the afternoon affords the best view of the comings and goings and for about 13 pounds Stirling (They trade in British Pounds in Northern Ireland and Euros in the south.) you can get a plate of sausage and champs with gravy that will stick to the ribs of two average appetites. Don't over-order and plan to take away, it's simply not done; they don't even have take out containers. Oh and it isn't unusual to have a pint for lunch, in fact, it would be unusual not to.
A black cab tour to provide an up close and personal guided view of the city including the Peace Bridge with its murals of the Troubles and gates that are still closed at night. Visitors sign the walls with messages of peace. There is absolutely no extreme rebellion or fear in the streets but old habits and the drink still exist.
The Titanic Museum Belfast has something for everyone. Whether you're interested in the history of shipbuilding, the infamous ship herself, the films based upon her story or just looking for a way to entertain the kids in Belfast; plan a couple hours. The Titanic was built here and employed 3000 men for two years which had an impact on the working class society before it even had a chance to sail.
Northern Ireland has two Michelin Star accredited restaurants. One is called Eipic and I dined at OX. This small, bare room with high white ceilings keeps all eyes focussed on the food without distraction. The tasting menu is the way to go at $85 Canadian (converted from 45 pounds at today's rate) and the wine pairings are a must. In my experience, sometimes wines are theoretically paired with each food and it is a hit and miss dance. But in this case, the enhancement of key flavours felt like the sommelier had handpicked petals of the brightest blossom on the tallest bough.
If you are a Van Morrison fan you will want to take a drive up to Holywood which houses one of two five star hotels in town called the Culloden Spa and Estate. (The other is called The Merchant) It is a poorly kept secret that Ireland's own song master takes a corner in the lounge, takes his family to brunch and often performs here. And no wonder, it is a majestic five star retreat that offers exquisite dining, a seaside walk and a spa to restore you. Traditional Irish Breakfast is a highlight here with its cold buffet of gorgeous smoked fish, rich local yogurt, housemade granola and muesli (and a nod to the ever present British Weetabix biscuits) with fruit compote and fresh juices. This is all before you enjoy traditional hot breakfast of black pudding, white pudding, sausage, eggs, baked tomato and mushrooms.
Northern Ireland's second city is the town of Derry/LondonDerry and it is truly the place you want to be to be able to wrap your brain around the very present history and the extreme hyper local commitment to food.
Must not miss in Derry/LondonDerry:
This walled city is stunning with its history of loyalism and defense of independence infused into every rock on the 1 Km promenade that surrounds it. From above you can see the countryside with its sheep, the sleepy neighborhoods surrounding it and the Peace Bridge built to connect unionist 'Waterside' with the largely nationalist 'Cityside and transcend the troubles. Join the Martin McCrossan wall walk guided tour for a very few dollars and an excellent overview. It meets outside the Foyle Mall curbside.
From there it all comes down to culture inside the town. The Bishops Gate Hotel is freshly restored and one of only two hotels within the walls. The sumptuous offerings in the bar/pub/restaurant are classic and yet up to date. For instance, a large bowl of porridge to accompany the serve yourself cold breakfast buffet is hearty and healthy with an added touch: it comes with its own special syrup made with reduced whisky. Sounds strange but the taste will change your mind about porridge forever. Fresh smoothies and pressed juices will keep you well for the remaining ways you will eat here. Here, too, there is barely a potato in sight.
Browns and The Sooty Olive are both terrific restaurants for dinner. Always, always go for the tasting menus when offered, these chefs are committed to hyper local and exquisite expression of food. Like, that bacon can from three miles up the road and I picked those flowers myself for garnish this morning kind of local. Any mashed potato is served as a swipe on a plate in honour of the past, there are no heaps of white suffering here.
There are monthly festivals and 2016 has been designated as the year of Food and Drink. March held the LegenDerry food festival where local producers and chefs connect with the people. Minds are changed and hearts are won over the dinner table where culture is built. I'm not surprised to see that the commitment to supporting the local farmers is woven into small shops that carry everything from black pudding to butter pastured not 10 miles away. No doubt the supermarket here has prices that compete fiercely but the ferocity of the Irish has never been in question. They are a committed people in lore, politics, belief and play and it has nothing to do with the "Luck of the Irish." It comes from generation after generation of knowing what's real.